What is the Future of Green Economy?
Data Science, Green mobility ed energie rinnovabili sono solo alcune delle tematiche su cui sarà incentrato "The Future of Green Economy", l'evento dedicato al futuro della Green Economy che si terrà domani pomeriggio a Roma, a partire dalle 18:30 presso la SIOI Società Italiana per l'Organizzazione Internazionale, in piazza S. Marco.

Energy Way sarà ospite, inserita nel panel di leader innovatori alla guida della Green Economy.
Lo Scenario attuale della Green Economy
Currently, the green economy holds roughly the same market share as the fossil fuel sector, 6% of the globally listed equity derived from renewable and alternative energy, energy efficiency, water, waste and pollution services. This new economy is now worth approximately $4 trillion. The energy industry comprises more than half of the green economy, followed by the food and agriculture, water and transport sectors.


Attualmente, la Green Economy detiene approssimativamente la stessa quota di mercato del settore dei combustibili fossili, il 6% dell'equity quotata a livello mondiale derivante da energia rinnovabile e alternativa, efficienza energetica, acqua, rifiuti e servizi di inquinamento. Questa nuova economia ora vale circa 4 trilioni di dollari. L'industria energetica comprende oltre la metà della Green Economy, seguita dai settori alimentare, agricolo, idrico e dei trasporti.


– Canadian Chamber of Italy

Il Ruolo trainante delle nuove Tecnologie
Le tecnologie innovative ed intelligenti, come l'Artificial Intelligence, porteranno sempre più innovazione nell'ambito della Green Economy e guideranno le nuove strategie di imprese e istituzioni, in merito alla Green Economy.
Per questo "The Future of Green Economy" intende fare networking e aprire un confronto su questi temi, esplorando sfide, connessioni e nuove opportunità assieme ai leader del settore.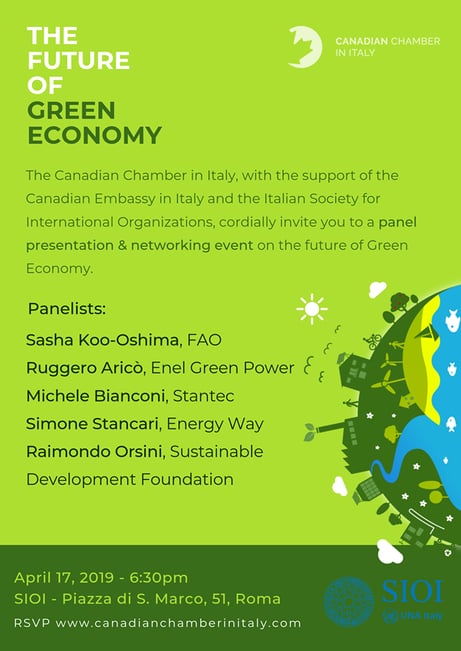 ---
Gallery
---
Info e dettagli dell'evento sono consultabili qui: The Future of Green Economy